Beijing Olympics: A tough act for London to follow
The 2012 host faces numerous challenges, including tight budgets, security concerns, and a dearth of homegrown Olympic champions in many sports.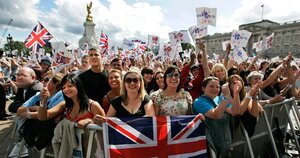 Lefteris Pitarakis/AP
Follow that! Even before Beijing passed the Olympic baton to London on Sunday, British officials were gearing up to face a formidable challenge in matching the 2008 Games. The Chinese have raised the Olympic bar and some 2012 Games organizers are already trying to manage expectations.
Boris Johnson, the London mayor who received the Olympic flag on Sunday, has stressed that although "dazzled" and "blown away" by the Beijing Games, he is not intimidated. But Mr. Johnson and others who will preside over Olympic preparations face three challenges that the Chinese had less trouble with: security, homegrown Olympians, and cash flow.
The first was underscored hours after London was awarded the 2012 Games in 2005, when the July 7 bombings startled Londoners into realizing that they, too, were on the front lines in the battle with Muslim extremists. The Olympic site is positioned in the middle of one of Britain's largest Muslim communities in the east London neighborhood of Stratford.
---