Under blue skies, Beijing dazzled as Olympic host
Gloomy forecasts of smog, terrorism, and rude hosts all but evaporated during the 17-day sports extravaganza, though concern remained about human rights.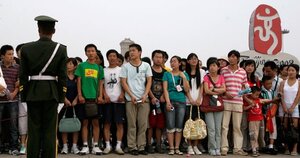 Grace Liang/Reuters
Choking pollution. Terrorist plots. Jeering Chinese fans.
These are just some of the gloomier forecasts for the Olympics that ended Sunday – forecasts that all but evaporated in unexpectedly blue skies over Beijing. Instead, the world watched a 17-day sports extravaganza that delivered drama, passion, and medals with a dash of controversy, but not the strong political undertow that some had predicted.
Fans behaved themselves and a security blanket kept out saboteurs. Only a smattering of athletes tested positive for banned substances. Most visitors found decent food, lodgings, and entertainment, even if the nightly carnival spirit of previous Summer Games was missed. Traffic flowed. Olympic venues dazzled. Gold medals fell to China at a breathless clip, sealing its sporting rise.
One prediction that did ring true was that China refused to allow protests, contrary to its past pledges. Domestic critics were silenced beforehand or snared by catch-22 rules on protest permits. Foreign activists seeking to publicize the cause of Tibet pulled off symbolic stunts that few spectators noticed.
Curbs on foreign media were partially lifted, but critical websites and foreign radio broadcasts remained blocked and Tibetan areas of China were off-limits to reporters. Far from improving human rights in the run-up to the Games, as promised, China was accused by international rights watchdogs of tightening political controls and harassing free-speech activists. The International Olympics Committee did little to enforce China's earlier pledges.
---