In Basilan, Philippines, a US counterterrorism model frays
Renewed violence on the island shows the challenge of wiping out militant groups for good.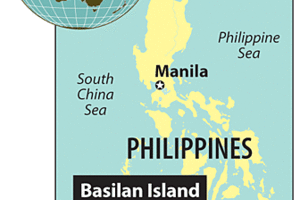 Rich Clabaugh/Staff
Just a couple of years ago, the Philippines was hailed as a success story in the US-led war on terror.
A military campaign by US-backed Philippines Special Forces had routed al Qaeda-linked Abu Sayyaf terrorists from their stronghold in the southern island of Basilan, killed their leaders, and confined surviving diehards to a remote island. Generous economic aid and "hearts and minds" outreach undergirded the "Philippines model."
"The iron fist and the hand of friendship succeeded in ... restoring both peace and hope to the island," crowed an August 2006 State Department report.
But recent violence shows how hard it is to keep the peace, and to uproot terrorists for good. Fighting broke out in Basilan early last week between the Philippines military and Abu Sayyaf. Battles Sunday left five soldiers dead and 24 injured, and reports say some 3,000 civilians have fled their villages amid the violence. The Abu Sayyaf is eyed for a recent spate of kidnappings, the latest of a girl and a nursing student.
How did Basilan flip back into tumult? In an interview last week, one US official explained, "if you withdraw too quickly without leaving appropriate law enforcement to maintain order, you leave a vacuum."
---