Pastor's private worship puts him under public scrutiny
Sidestepping 'patriotic' churches, Zhang Mingxuan actively promotes his faith – and pays the price in arrests and jailings.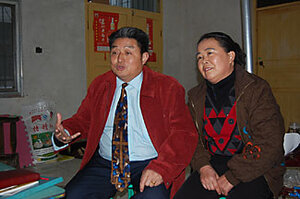 PETER FORD/THE CHRISTIAN SCIENCE MONITOR
China has been transformed beyond recognition since the ruling Communist party decided 30 years ago this week to abandon Maoism, build a market economy, and dismantle the "bamboo curtain" that had isolated the country from most of the world. This series explores what "reform and opening" has meant to the everyday lives of six individuals.
Nanyang, China – For a man who started life as an anonymous itinerant barber, Zhang Mingxuan has certainly got himself into a lot of trouble.
His repeated run-ins with the Chinese police, however, have had nothing to do with his haircuts. His problem is that he is a Christian who prefers to worship privately, rather than in the state-sanctioned "patriotic church."
That puts him beyond the boundary of religious freedom in China, where 30 years of "reform and opening" have broadened religious tolerance, but only up to a point.
It also means that after being evicted from his apartment in Beijing, Mr. Zhang – a jolly square-faced man who makes a point of wearing a tie with a pattern of crosses – is now homeless and having to camp with his wife and his sister-in-law in three dingy, sparsely furnished rooms loaned by a fellow believer in this nondescript city in central China.
His two adult sons, one of whom was beaten within an inch of blindness by policemen during the eviction last August, have also suffered for their faith.
"Since the government opened up religious policy, patriotic church members have the right to practice," he says. "But the situation is different for house churches. It is hard for the government to control them ... and they think house churches could be an antigovernment political power."
---