China's Communist Party cautiously celebrates its reforms
Its economy has broken records, and the country is a global player – but the financial crisis could threaten stability.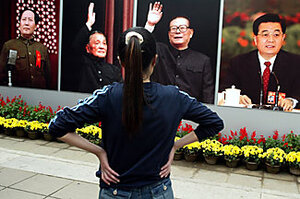 Ng Han Guan/AP
BEIJING – So far, so good.
China's leaders have reason to be pleased with themselves as they look back this month on 30 years of "reform and opening." Their country has broken all the economic development records, Beijing today wields global influence, and – most important – they are still in power.
But after riding the tiger of rising expectations so successfully for so long, the government may have met its match in the international economic crisis.
Millions, possibly tens of millions, of workers are expected to lose their jobs in the coming months. Incidents of social unrest, while still sporadic, are on the rise. Some observers wonder whether the threat to stability might not frighten the government into abandoning the reformist principles that have guided Beijing for three decades.
"This is a country united and driven by economics, not by ideology," says Russell Leigh Moses, a Beijing-based political analyst. "If the economy fails, so do the reasons for reform."
The ruling Communist Party, rarely shy to trumpet its achievements, was curiously muted in the run-up to the 30th anniversary of the meeting that gave birth to "reform and opening" in December 1978. The only article published by the party mouthpiece, the People's Daily, focused more closely on the policy's shortcomings – the corruption, weak social services, and widening inequality it has engendered – than on its triumphs.
---