In an increasingly wired China, rehab for Internet addicts
A Beijing treatment center for Web-addicted youths includes counseling, group games like laser tag, and physical exercise.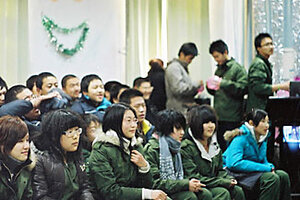 Jonathan Adams
A 6 a.m. wake-up call. Afternoon drills in military bearing and formations. And a grueling regime of push-ups and leg lifts before the 9:30 p.m. lights-out.
Welcome to rehab for Internet addicts – People's Liberation Army (PLA) style.
Here, on a military base outside Beijing, a progressive Chinese psychologist, Tao Ran, has established a treatment center for a distinctly 21st-century malady.
The center is an experiment in treating "non-material" addictions – others include work-, shop- and sex-aholism – that are booming along with China's rapid modernization, says Dr. Tao.
"The problem is getting worse," says Tao. "[Internet addicts] can't adjust to school and society, so they try to escape their difficulties and avoid problems. They lack self-confidence and often don't have the courage to continue their lives."
China has the world's largest number of Internet users – 290 million and counting, with 70 percent under the age of 30. And a recent survey of Internet use by global market information group TNS found that Chinese spend the highest proportion of their leisure time online – 44 percent – out of users in 16 countries.
Tao estimates that 4 to 6 percent of Chinese netizens, which includes more than 13 percent of Chinese college students, are addicts – a term he defines as anyone who spends more than six hours per day for three months or more on nonwork- or study-related Internet use. That amounts to as many as 17 million net junkies in China. By comparison, about 8 percent of college students in the US are addicted Web users, he estimates.
---