To lift economy, China urges citizens to spend more
Beijing hopes stoking domestic consumption can boost its slowing economy. But convincing a nation of savers to spend more during hard times may be a tough sell.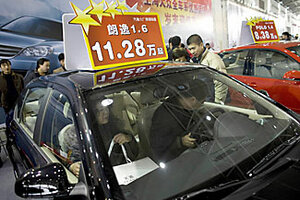 Andy Wong/AP
Li Wen, the manager of a Citroen auto dealership in south Beijing, is pretty proud of himself. As car sales across China dive, torpedoed by the international crisis, his figures are holding up.
He is the sort of model entrepreneur whose example the Chinese government badly wants others to follow, as the authorities pin their hopes of staving off an economic slump on a boost to local consumption.
"Stimulating domestic demand is the most important factor to cope with the global financial crisis," the governor of China's central bank, Zhou Xiaochuan, said recently. "We need to adopt more comprehensive policies to support ... consumers' spending patterns."
One of Mr. Li's own policies – to offer more financing to car buyers – illustrates just how hard it could be to persuade a nation of savers to spend their country's way out of trouble.
Almost all of Li's customers – traditionally wary of falling into debt – pay cash on the nail, in full, for their autos. This year, he hopes to persuade 20 percent of them to take out loans that he has arranged with local banks. "We have to encourage consumers to buy," he says. "We dealers have to provide services to boost consumer confidence."
Counting on domestic demand
With export growth shrinking and industrial output falling precipitously in recent months, the government is hoping that domestic demand will keep the economic growth rate – an extraordinary 11.9 percent in 2007 – from falling below 8 percent this year.
That is the level, government economists say, at which the Chinese economy creates enough jobs to absorb a growing workforce. Beijing fears politically risky social unrest if the jobless rate climbs too high.
---