China's surge of college graduates finds white-collar work elusive
A heavily blue-collar economy and the global financial crisis have made it tough for graduates, whose numbers have risen sharply.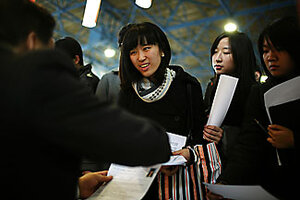 China Photos/Getty Images
As if college seniors hadn't watched their job prospects sink low enough.
Students from Guangdong Province, China's wealthiest region, are so desperate for work they're applying for jobs as nannies – and getting rejected, a local paper reported last month.
It's probably not what young people had in mind as they slogged through years of tough exams, buoyed by the new emphasis on higher education and the prospect of white-collar employment in a booming China.
Some 6.1 million grads are expected to flood the job market this year – joining the 27 percent of last year's diploma-holders who still haven't found work. Instead, they're finding deserted job fairs, hiring freezes, and salaries that migrant workers might expect. Confronted by global recession and a heavily blue-collar economy, China's educated elite are having to lower their expectations – frustrating families and putting the government on alert ahead of the 20th anniversary of the student-led Tiananmen protests.
There's "a mismatch between expectations and realities, exacerbated by the current economic slowdown," says Thomas Rawski, a China expert at the University of Pittsburgh in Pennsylvania. "It really is a clash of preferences."
The oversupply of students first ballooned in 1999, when China erected a flurry of colleges in an effort to mint more of the scientists and managers it needed for a 21st-century economy. It also sought to absorb a burst of teenagers born in a post-Cultural Revolution baby boom after 1976.
---