As Asia builds economic ties, Taiwan sidelined by China
Taiwan watches as Asian neighbors ink trade deals, lower tarrifs, and get access to Chinese loans for growth.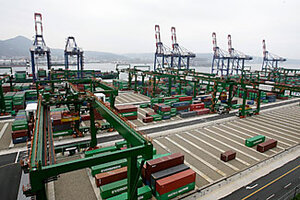 Pichi Chuang/Reuters
Looking out over towering stacks of containers and hulking freighters here, the problem is far from evident.
But this bustling port – once one of the world's busiest – is in sharp decline.
By the port's own calculations, it's now fallen off the list of the world's top 10 – down to No. 12, from No. 3 just a decade ago, a ranking that should become official later this month.
That's not because Kaohsiung Port isn't growing. It's because China's ports are growing much faster.
"In the last decade, several new ports have been established in the mainland, with annual growth rates of 40 percent," says Shieh Ming-hui, director-general of the Kaohsiung Harbor Bureau. "Our port's growth rate is about 4 percent per year. That's the main reason for this phenomenon."
Kaohsiung Port's decline is a symptom of a far more serious problem for this island-nation: Amid China's dramatic rise, Taiwan is being economically sidelined.
But it's not just that this onetime economic "tiger" now can't compete head-on with China in ports and other areas. Due to Beijing's political pressure, Taiwan is also the odd-man out amid the trend of Asian economic integration.
Taiwan watches from the wings
China sees self-ruled Taiwan as part of its territory. It forcefully objects to any nation signing pacts with Taiwan that would confer on it the status of statehood.
---