Japan's culture of not spending crimps economic rebound
Meet the Kimuras, who haven't bought a major appliance in 10 years and who have made being thrifty an art form.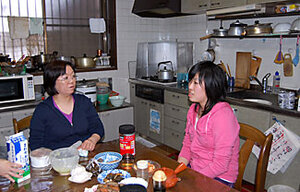 Takehiko Kambayashi
Japan's "lost decade" has turned a nation of savers into one in which people are even more reluctant to part with their yen – which holds lessons for the US.
Normally, a healthy savings ethic is an enviable trait: Witness how much trouble Americans have gotten in by spending beyond their checkbooks. But Japanese thriftiness has gone so far that it is undermining the nation's ability to surmount a deepening economic slump. It presages challenges consumption-oriented nations may face in getting people to reopen their wallets.
Consider the frugality of Kumi Kimura. She drives a decade-old compact car and shops at discount stores. Her family doesn't eat out unless there is something to celebrate. "Many homemakers are very aware of bargains, carefully checking advertisements," says Kumi, a mother of two who works at an elder-care facility.
The global recession has hit Kumi's hometown hard. Obu, a city of 85,000 in central Japan, is a "corporate castle town" of Toyota, which recently posted its first loss in 70 years. With Toyota subcontractors dotting the region, the carmaker's slump has had an "enormous economic and psychological impact," says Hiroto Kimura, Kumi's husband.
Certainly much of Japan's reticence to spend stems directly from its economic woes. In the last quarter of 2008, the nation's gross domestic product fell at an annual rate of almost 13 percent. The deepening malaise is forcing firms to cut back workers' hours. More than a third of the workforce is now part-time or temporary employees.
---