With second test, North Korea asserts nuclear-power ambitions
Monday's explosion dashed hopes that the secretive nation is simply building its weapons program as a bargaining chip.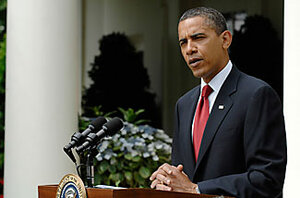 Jonathan Ernst/Reuters
North Korea's nuclear test Monday appears to have dashed hopes on both sides of the Pacific that Pyongyang was using its nuclear program as a bargaining chip with which to negotiate an end to its pariah status. Rather, diplomatic observers warn, North Korea's second test hardens suspicions that it intends to join the nuclear club permanently.
The brazen challenge, just weeks after the United Nations condemned a missile test, also illustrates how little effect international efforts have had in thwarting North Korea's intentions.
"It is looking more and more as if the nuclear program is something they intend to keep and they are not ready to bargain it away," says Denny Roy, a North Korea expert at the East-West Institute in Hawaii.
"We used to believe that North Korea was simply playing the nuclear card," adds Cai Jian, deputy head of the North Korea Research Institute at Shanghai's Fudan University. "Now we think it is a strategic choice."
North Korea exploded what the Russian military estimated to be a 10-20 kiloton nuclear device, significantly larger than its first test in October 2006 and comparable to the US bombs dropped on Hiroshima and Nagasaki.
The test was "aimed at strengthening its self defense nuclear deterrent in every way," Pyongyang's official KCNA news agency announced.
---