Tiananmen Square: Workers bore brunt of repression
On 20th anniversary of massacre, few remember the key role state employees played in supporting students – and the price some paid for organizing.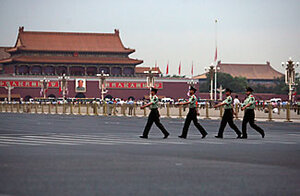 Elizabeth Dalziel/AP
Twenty years after Chinese troops dispersed pro-democracy demonstrators in Tiananmen Square with murderous gunfire, some 50 protesters still languish in jail. Most of the prisoners were workers at the time. None of them was a student.
While the world remembers the six weeks of mass rallies in Beijing's central square as a cry for freedom by idealistic students, the workers and other ordinary Chinese citizens who bore the brunt of the repression remain largely forgotten.
Yet the severity of the punishment meted out to workers was no coincidence. And some historians see in the brutal crackdown on June 4, 1989, not only an end to hopes for democracy, but also a warning to those likely to suffer from free-market economic reform not to make trouble.
"The ones who made the big sacrifice in 1989 were not the students or the intellectuals, but the workers and other citizens," argues Wang Hui, one of the last students to leave the square as the tanks moved in. Now a history professor at Beijing's Tsinghua University, he adds, "The government's big worry was social unrest, and the autonomous trade union was their top target."
Supporting the students
Workers made up a very small minority of the Tiananmen protesters, and played very little role in setting their agenda.
"We just supported the students. They led the protests and gave workers something to follow," recalls Han Dongfang, a railroad worker who was spokesman for the short-lived Autonomous Workers' Federation that sprang up in Tiananmen Square and rallied trade union activists in cities around the country.
---