The fate of Sri Lanka's Tamils after the Tigers
The LTTE rebels may be gone, but what about their fight for a homeland for the ethnic Tamil minority?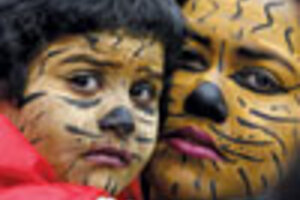 AP
Who are the Tamils?
The Tamils are a minority with deep roots in the north of the island nation of Sri Lanka and kinship ties to the Indian state of Tamil Nadu, which lies across a narrow sea channel. A separate group of Tamils arrived later from India as laborers during British rule and are known as Indian Tamils. Together they make up around 18 percent of Sri Lanka's 20 million people, with the Sinhalese majority making up 74 percent. Largely Hindu, the Tamils live mostly in the north and east, the area claimed by the Liberation Tigers of Tamil Eelam (LTTE), though large numbers live in Colombo, the capital. Since the 1980s, Tamil emigration has created an influential diaspora in Britain, Canada, Australia, and elsewhere that exceeds 800,000 people.
What do they want?
After Sri Lanka's independence in 1948, Tamil elites excelled in English-language education and government service. Sinhalese felt excluded, and their political leaders sought to redress the balance, only to sow the seeds of civil war. The 1956 "Sinhala Only" law that promoted the majority tongue was a turning point. Ethnic relations soured, and Tamils began agitating for a federal state. By the 1970s, this demand had shifted to calls for a separate homeland and armed groups emerged in Jaffna.
---