N. Korea threatens strike after US-S. Korea summit
In South, decisive tone of 'joint vision' is seen as sending a strong message to the North.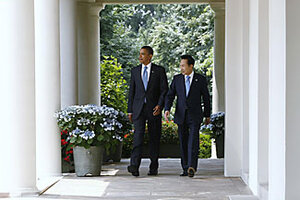 Larry Downing/Reuters
President Barack Obama appears to have convinced many South Korean skeptics of the United States' commitment to the defense of South Korea during his White House meeting Tuesday with South Korean President Lee Myung Bak.
South Korea's defense ministry was quick to respond with obvious relief, characterizing the promise of a continued "nuclear umbrella" in the statement issued by the two presidents as "a warning to North Korea."
North Korea followed up almost at once, vowing in an editorial of "a 100- or 1,000-fold retaliation with merciless military strike" if the US "and its followers infringe upon our republic's sovereignty."
On that note, the summit – and the response – opens a new phase of a confrontation that seems to worsen by the day, at least in terms of rhetoric.
Yet in South Korea, the decisive tone of the summit was well received, signaling a shift away from a more combative tone that left some in the country doubtful about the need for close ties with the US.
"Generally we are pleased they showed one voice," says Choi Jin-wook, North Korea analyst at the Korean Institute of National Unification in Seoul.
---
Follow Stories Like This
Get the Monitor stories you care about delivered to your inbox.