Deadly riots in western China take unprecedented toll
The violence brings into question China's hard-line policy against Uighur ethnic minority.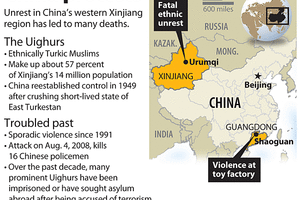 Source: AP/Reuters/ESRI
Simmering ethnic tensions in the mainly Muslim west of China erupted Sunday night into the country's deadliest rioting in decades, as demonstrators and police clashed violently.
State media put the death toll at more than 140, and portrayed the mayhem in Urumqi, the capital of the Xinjiang autonomous region, as a rampage by Muslim Uighurs against Han Chinese bystanders. Uighur representatives abroad denied that account, and blamed the security forces for most of the deaths.
Muslim Uighurs have long chafed under what they feel is repressive rule by the nation's Han Chinese majority. They resent Beijing's drive to populate Xinjiang with Han settlers from the east of the country, its clampdown on religious practice, and Uighurs' relegation to mostly menial jobs.
"There have been widespread discontents, and things have boiled over," says Dru Gladney, an expert on Xinjiang at Pomona College.
The Chinese authorities, meanwhile, say they fear that Uighur radicals are seeking to break away from China, and last month launched a new "strike hard campaign" of arrests in Xinjiang, local residents say.
Sunday's violence apparently broke out after a peaceful demonstration got out of control. A provincial government spokesman said Monday that more than 260 vehicles had been attacked or burned, and that 203 houses had been damaged. He put the number of injured at 828.
---