Poised for reelection, Indonesia's president will face challenges in economy, corruption
Early results show President Yudhoyono is heading for a decisive victory. He must manage a slowing economy and a fractured Parliament that will challenge reform.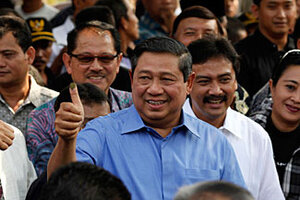 Beawiharta/Reuters
Voters in Indonesia appear to have handed President Susilo Bambang Yudhoyono a second five-year term, raising hopes for continuity in steering an underperforming economy and keeping a lid on ethnic and religious tensions.
Sample results tallied by private polling agencies point to a landslide for Mr. Yudhoyono in Wednesday's election. Around 30 percentage points separate Yudhoyono from former President Megawati Sukarnoputri, with Vice President Yusuf Kalla trailing even further behind. Neither opponent is likely to concede just yet, however, as official results won't be released for nearly three weeks.
For many observers, the main question has been the margin of victory. If the winner polls below 50 percent, he or she faces a runoff in September against the second-place candidate. That now seems unlikely as unofficial tallies put Yudhoyono between 58 and 61 percent, with Ms. Sukarnoputri between 26 and 28 percent.
In recent weeks, Yudhoyono's allies placed newspaper ads urging supporters to turn out Wednesday so that the country would save around $400 million by not staging a runoff vote. Mr. Kalla criticized the ads as inappropriate and said it was impossible to put a price on democracy.
Opinion polls showed Yudhoyono's lead barely faltered during months of campaigning that included three televised debates between the candidates. "It's clear that neither of his opponents could get any traction," says Jeffrey Winters, a politics professor at Northwestern University in Evanston, Ill., who is currently in Indonesia.
---