Cyberattacks against US, S. Korea signal anger – not danger
The strikes aim to make a high-profile political point, not inflict widespread damage.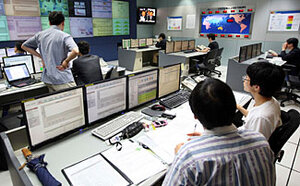 Lim Hun-Jung/Yonhap/REUTERS
Think Boston Tea Party, not the Battle of Bunker Hill, when it comes to the latest cyberattack against South Korean and American websites.
The type of attack involved – a "distributed denial of service attack" (DDOS) – is neither terribly sophisticated, nor, in this case, particularly damaging, say cybersecurity experts. The effort and impact rank lower than other high-profile international DDOS incidents over the past three years, such as in Estonia and Georgia.
More worrisome attacks tend to be stealthy, and involve breaking into machines and either taking information or taking control. Denial of service attacks often have the opposite goal: To make a highly visible political point.
Militaries around the world are pouring more resources into cyberwarfare, including the US, which inaugurated a first-ever cybercommand last month.
But not all cyberattacks – even ones potentially launched by governments – are best thought of in terms of warfare. The attacks on Estonia and South Korea, for instance, might best be thought of as the 21st-century equivalent of banging a shoe at the United Nations.
"These are more like protests in the street, where an angry mob might burn you in effigy," says Jose Nazario, a cybersecurity expert with the Boston-area Arbor Networks. "If your motives are to register your frustration or anger, this is very commonly used throughout the world to do that."
---