Jakarta bombings: Why Indonesia's Islamist radicals attack
Charity worker Noor Huda Ismail went to the same Islamic boarding school as some of Indonesia's top terrorists. Now he explains their ideology.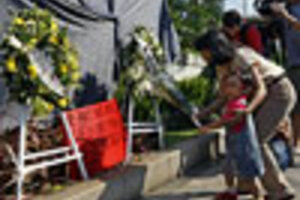 Mark Baker/AP
Indonesian authorities said Sunday that there is an increasing evidence that the Jemaah Islamiyah (JI), an Islamist group responsible for more than 300 murders in attacks dating back to 2000, was responsible for Friday's deadly attacks on the JW Marriott and Ritz-Carlton hotels in Jakarta.
Ansyaad Mbai, a senior Indonesian counter-terrorist official, said that an unexploded bomb found in a laptop in an 18th floor room at the Marriott indicates that the attackers – two of them suicide bombers – used the room as a sort of command center for the attack.
In particular, he said, the blasts were most likely linked to Malaysian fugitive Noordin Mohammad Top, one of Southeast Asia's most wanted men and who is believed to be leading a JI splinter group.
If it is JI, it's quite likely that some of the operatives would have been drawn from the Al Mukmin Islamic boarding school, which Sidney Jones, a leading researcher on the group, has described as part of a militant "ivy league."
Noor Huda Ismail is a 1991 graduate of the school who roomed with boys who later joined JI – one became a suicide bomber – and is now a researcher and head of the Institute for International Peacebuilding, an Indonesian foundation that seeks to reintegrate Islamist fighters into mainstream society. He stays in touch with a number of JI's jailed activists and his descriptions of the school's training gives outsiders a valuable window on the ideology behind JI's attacks.
---