Japan's ruling LDP lays out its campaign platform
Prime Minister Aso's long-ruling party is under fire as polls indicate strong support for the opposition Democratic Party of Japan. The vote is Aug. 30.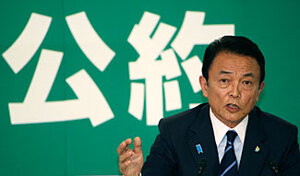 Koji Sasahara/AP
Japan's long-ruling Liberal Democratic Party targeted economic stagnation and household income Friday in a platform that it hopes will bolster its prospects in a key upcoming election.
At stake is the future of a party that oversaw Japan's dramatic rise in the postwar period, but has come under withering criticism for its lack of governmental reform as well as its handling of the world's second-largest economy amid global financial meltdown. Opinion polls indicate the opposition Democratic Party of Japan has a good shot at winning Aug. 30 vote.
On Friday, Prime Minister Taro Aso, who has held office for less than a year, declared that the economy will achieve an annual growth rate of 2 percent by early 2011 and pledged to create 2 million new jobs. That pledge came despite a Bank of Japan forecast of a 3.4 percent contraction for this fiscal year.
Mr. Aso also vowed that household incomes would grow by about $10,000 a year over the next decade, and that Japan would lead the world in per capita income.
But he failed to explain specific plans for reaching these goals. Instead, he touted the LDP as the more reliable of the two parties.
Aso said he wanted to stress the LDP's "ability to take responsibility. Campaign promises must be backed up and consistent," he said. "That's what makes us different from other parties."
But Aso, whose two predecessors left office after very brief tenures, has struggled with low approval ratings amid policy flip-flops and a high-profile series of gaffes.
---