Rural Japan warms to opposition as election looms
Long a ruling-party stronghold, small towns and farming communities are disillusioned by their waning political influence – and are willing to try new leaders.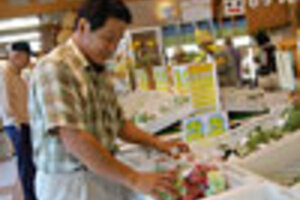 Takehiko Kambayashi
If you were kind, you could call the main street of this rural county town "sleepy."
You could also call it dead. There was barely a pedestrian to be seen on a sunny Thursday afternoon this week, and just one old man scanning the shelves at a 7-Eleven.
Young people are fleeing towns like this all over Japan, and their parents have all but given up trying to make a living from their farms.
"It is no exaggeration to say that rural communities around here are collapsing," says Sadaji Asawa, a local mayor.
The mood is bleak, and the ruling Liberal Democratic Party – which has held almost unbroken power for over half a century – is about to suffer the consequences, to judge by all the opinion polls in the runup to Sunday's parliamentary election.
Those predict a landslide victory for the Democratic Party of Japan (DPJ), not least because in key electoral battlegrounds around the countryside, farmers are – for the first time in a lower house election – turning to the opposition for succor.
Like almost everywhere else in Japan, farms in this region of emerald rice paddies at the foot of forested hills are tiny family affairs. With farm prices low, they barely keep their owners alive.
Many have given up. The number of farming households in Nihonmatsu has fallen by half since 1960, according to local government figures. Only 353 families now live entirely by farming – 10 times fewer than 45 years ago.
"They can't eat if they don't have a job somewhere else," says Minoru Kamino, head of the town government's Commerce and Industry department.
No farming in children's future
Masao Karino's aging parents do nothing but farm, and Mr. Karino, who heads a local branch of Japan Agriculture, the cooperative that acts as the nation's top farm lobby, helps them out at weekends.
---