How Japan plans to have more babies
The new government of Prime Minister Yukio Hatoyama has vowed to boost financial support for parents in an effort to increase its birthrate, one of the lowest in the world.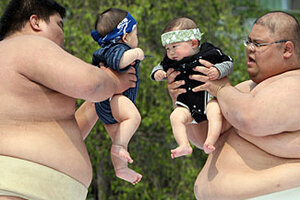 TOSHIFUMI KITAMURA/AFP/NEWSCOM/FILE
After Japanese Prime Minister Yukio Hatoyama's debut on the international stage last week at the United Nations General Assembly in New York, the premier is back home to tackle daunting tasks. One of the most intractable problems his country is facing is its falling birthrate.
Japan's population could shrink by25 percent by 2050 if the birthrate does not increase, according to the National Institute of Population and Social Security Research.
Prime Minister Hatoyama's Democratic Party of Japan won an overwhelming election victory last month, breaking more than 50 years of almost uninterrupted rule by the Liberal Democratic Party. In an attempt to bring the birthrate back to a sustainable level, the new government has promised to ease the expense of raising children in this island nation.
According to government minister Mizuho Fukushima, previous administrations "have been weak on providing financial support even though they have taken steps to tackle the daycare shortage problems." Now, Japan "is going to provide childcare support as much as it can to create a society where Japanese people can have a dream of raising children," Bloomberg quoted him as saying.
---