North Korea ready for six-party talks – with caveat
North Korea told China's visiting Prime Minister Wen Jiabao it will return to six-party talks it abandoned in April. But first, it wants bilateral talks with the US.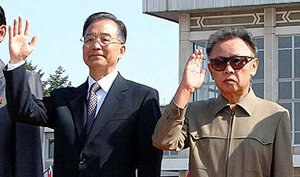 Reuters/KCNA
North Korea's new readiness to return to stalled international talks about its nuclear program – if prior negotiations with the United States go well – puts the diplomatic ball in Washington's court.
"This is a test for the Obama administration's policy on North Korea," says Ryoo Kihl-jae, a professor at the University of North Korean Studies in Seoul.
Initial signs suggested that the US was prepared to pick the ball up. "We, of course, encourage any kind of dialogue that would help us lead to … the complete and verifiable denuclearization of the Korean peninsula," said State Department spokesman Ian Kelly.
Pyongyang withdrew in April from six-nation talks aimed at ending its nuclear program and its international isolation, saying it would never return.
Tuesday, however, the official North Korean news agency quoted "Dear Leader" Kim Jong-il as telling Chinese Prime Minister Wen Jiabao during this week's high-profile visit to Pyongyang that "we expressed our readiness to hold multilateral talks, depending on the outcome of the DPRK (North Korea)-US talks. The hostile relations between the DPRK and the United States should be converted into peaceful ties through the bilateral talks without fail."
---