Earthquake preparation pays off for Indonesian village
Indonesian village Mangopo had no fatalities. Other nearby villages without evacuation training did.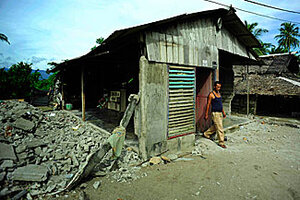 Dylan Martinez/Reuters
International aid is flowing into quake-hit areas of Sumatra, Indonesia, as US troops join the effort to provide food, shelter, and medical care after last week's 7.6-magnitude earthquake.
In the worst-hit city of Padang, around 100,000 houses were severely damaged, while scores of public buildings collapsed, exposing shoddy construction. Indonesia's state news agency reported that the economic damage was estimated at over $200 million.
At the same time, stories are emerging of communities that responded to the quake with pre-arranged evacuation drills and were spared the worst. The same communities quickly sized up the damage and prepared for aid delivery and reconstruction, using the same disaster risk training.
Vulnerable cities should prepare
It has been a bad few weeks for natural disasters in Asia. Typhoon Melor left a trail of destruction Thursday in central Japan and two undersea quakes triggered a tsunami scare for Vanuatu, though to the relief of residents only small waves hit the island.
Aid workers and experts on mitigating natural disasters say these events underline the need for rigorous preparation, including early warning systems and evacuation drills for areas at risk of tsunamis. While relief aid for stricken populations is essential, so too is investment in preparing communities for future disasters, particularly in urban quake zones.
The fact that so many buildings collapsed in Padang, which caused most of the deaths, is an indicator of poor preparation by a highly vulnerable city, says Sanny Jegillos, a regional coordinator for crisis prevention for the UN Development Programme in Bangkok.
---