Diamond sales sparkling in China
In a country where gold and jade have traditionally signaled love, more young Chinese couples now fancy diamonds. China is overtaking Japan as the world's second-largest consumer of the precious stone.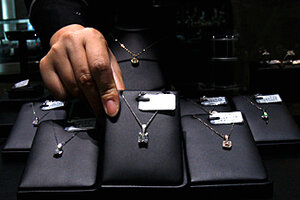 Tyrone Siu/REUTERS/FILE
Diamonds may or may not be forever, but they are certainly for right now in China, as the country overtakes Japan to become the second largest consumer of the precious stones.
Fueled by the growing popularity among young couples of diamond wedding rings, Chinese imports of polished diamonds rose 12.7 percent over the first six months of this year to a record $300 million, according to the state-run Xinhua news agency.
As diamond sales in Japan slump because of the economic crisis, "the Chinese market will inevitably grow because Chinese people's love of diamonds is growing," says Wang Fei, a researcher specializing in luxury goods at the University of International Business and Economics in Beijing.
Diamonds are displacing traditional tokens of love such as gold and jade in China, says Ms. Wang, because "the big brands' marketing strategies" have persuaded young people that "diamonds are symbols of true love."
"There is a certain fascination with diamonds in China," adds Philip Claes of the World Diamond Center in Antwerp, Belgium, the world's largest diamond polishing hub. "Now [that] they have the means to buy them, they are very eager.
---