On last stop of Asia tour, Obama targets Iran, North Korea
Obama addressed Iran and North Korea nuclear programs at Osan Air Base in South Korea. Obama also discussed free trade agreement with S. Korea President Lee.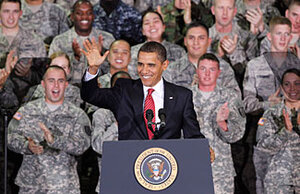 Jo Yong-Hak/REUTERS
Osan Air Base, South Korea
There was no doubt about it. President Barack Obama got by far the loudest cheers of his six-day East Asian odyssey Thursday in a rousing 15-minute talk before about 1,000 troops.
At Osan Air Base here, troops from all services repeatedly interrupted with applause as the president spoke in words that applied immediately to concerns over North Korea's nuclear program. His remarks also had implications for his get-tough policy toward Iran as enunciated hours earlier in Seoul after his summit with South Korea's President Lee Myung-bak.
"We've seen indications that for internal political reasons or perhaps because they are stuck in some of their own rhetoric, they are unable to get to 'yes.' As a consequence, we have begun discussion with our international partners" about sanctions, Mr. Obama said.
On the final day of a tour that took him to Japan, Singapore, China, and South Korea, Obama could be sure in these friendly surroundings of real agreement on America's role as a military superpower on fronts extending from northeast Asia to the Middle East. First with President Lee, and then at this major air base, the headquarters of the 7th US Air Force 30 miles south of Seoul, he could speak in the unabashed language of a leader of battle-ready troops.
---