Philippines' Arroyo draws criticism for martial law
One day after Philippines President Gloria Macapagal Arroyo imposed martial law in Maguindanao Province, where her allies are linked to a recent massacre, critics have raised questions about her political motives and the potential for abuses.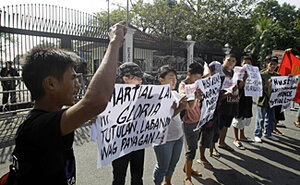 /Bullit Marquez/AP
Philippine President Gloria Macapagal Arroyo is coming under fire for her weekend declaration of martial law in the southern province of Maguindanao, where political allies of hers are linked to a massacre of 57 people last month.
Her government's investigation into the killings is a litmus test for whether Ms. Arroyo will tackle the country's culture of impunity for political killings, especially in a case that involves a close ally, the powerful Ampatuan clan.
Since the Nov. 23 massacre the government has named 10 Ampatuans as suspects in the case and dispatched thousands of troops to Maguindanao. Police there say they were attacked by dozens of gunmen belonging to the family's militia late Sunday.
But the declaration of martial law – the first in the country since 1972 – was criticized both as an overreaction and as a ploy to preserve Arroyo's political standing. Critics question whether a rebellion is actually occurring.
"I think the decision to declare martial law was done to give Ms. Arroyo some breathing space … a smokescreen until she can figure out where to go from here," says Pete Troilo, director of the Manila-based political risk consultancy, Pacific Strategies and Assessments. "It is well known the Ampatuans helped secure her election win in 2004 and helped her party win during the mid-term elections. So she knows they hold some valuable cards."
---