North Korea talks: US envoy trip shows difficulty of getting to yes
US envoy Bosworth says North Korea talks in Pyongyang were 'useful.' But the North has not committed to returning to six-party talks on its nuclear program.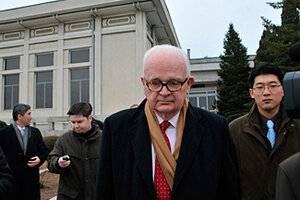 Yao Ximeng/Xinhua/Reuters
President Obama's envoy on North Korea has apparently gotten nowhere in bringing North Korea back to six-party talks on giving up its nuclear weapons – a sign of just how difficult it will be to pick up the pieces of the process after a year's hiatus.
Stephen Bosworth – in Seoul on Thursday after nearly 48 hours in Pyongyang – called the talks, the first of Mr. Obama's presidency between the US and North Korea, "very useful" but admitted that it "remains to be seen when and how" North Korea will return to six-party talks last held in Beijing.
His attempt at bringing North Korea back to negotiations leaves analysts here deeply divided on whether bilateral dialogue between the US and the North is worth the effort.
"You may need a second or a third round of talks," says Lim Dong-won, architect of the Sunshine policy of reconciliation with North Korea during the presidency of the late Kim Dae-jung. "You cannot solve anything in the first round."
Need for complete denuclearization
---