For China, Japan sets aside royal protocols
Japan's Imperial Household initally balked at a 'last minute' request by China's visiting vice president to meet with the Emperor Akihito. The request was made 19 days ahead, instead of 30. But the meeting will take place Tuesday in Tokyo.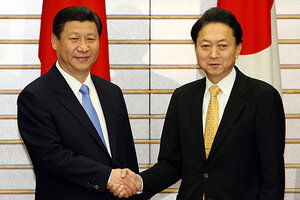 Junko Kimura/AP
Chinese Vice President Xi Jinping may himself be a "princeling," as the gilded offspring of revolutionary leaders are known here. But his current trip to Japan is teaching him what it's like dealing with real royalty.

Japanese royalty, at any rate. Beijing's "last minute" request that Mr. Xi be granted an audience with Emperor Akihito sent the Imperial Household Agency into a paroxysm of 'protocolular' peevishness.

The problem is that Imperial Household rules state that requests for such an audience be presented at least a month in advance. Exactly when the Chinese authorities let it be known that Xi wanted to meet the emperor is not clear. But the Japanese government made the request of the Imperial Household on Nov. 26, only 19 days ahead of the meeting.

Court officials initially turned the government down, Grand Steward of the Imperial Household Shingo Haketa told reporters last week, according to the daily Asahi Shimbun.
---