Do Hmong deported by Thailand face danger in Laos?
Thailand deported more than 4,500 ethnic Hmong to their homeland of Laos, saying they were largely economic migrants, not persecuted refugees. But the US government condemned the move.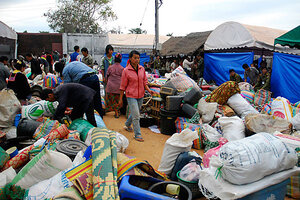 Reuters
In a defiant move, Thailand has sent back to Laos more than 4,500 ethnic Hmong who fled their homeland in recent years and many of whose elders fought for the CIA during the Vietnam War.

The US government has strongly condemned the mass deportation of displaced Hmong, who have claimed persecution at home and sought refugee status. Thailand says that the vast majority are economic migrants and are assured fair treatment by Lao authorities.

The expulsions began early Monday at a military-run camp in northern Thailand. Truckloads of Hmong were later driven to a bridge over the Mekong River that divides the two countries, and handed over to Laos. All have now been returned, according to Thai and UN officials.

Human rights groups say Thailand's refusal to allow UN officials to visit the camp and interview asylum seekers means that many Hmong may have been sent back to a country where they have a well-founded fear of persecution – the legal definition of a refugee.

While it has hosted large refugee populations along its borders, including in the aftermath of the Vietnam War, Thailand has never signed the 1951 UN Convention on Refugees. Security officials are wary of lenient policies that could attract more refugees from its unstable neighbors.

Successive groups of Hmong who fled Laos after the Communist takeover in 1975 have resettled in the US, mostly in St. Paul, Minn., and central California. The largest recent program in 2003 accepted around 14,000 Hmong who had taken shelter at a Buddhist temple in Thailand.

After that program ended, Thai authorities took a tougher line on Hmong living in Thailand, some of whom claimed kinship with pro-US fighters and sought unsuccessfully to join the US resettlement program. More than 3,000 have been deported to Laos since 2005.

Monday's expulsions included a group of 158 Hmong, held separately in a border town, who were granted UN refugee status in 2006. The US and other countries had agreed to resettle members of this group, says Ariane Rummery, a spokesperson for the UN High Commission on Refugees.

But Thailand insisted that the 158 refugees must be sent back to Laos along with the other, larger group, despite last-ditch efforts by US officials to stall the process. UN officials and human-rights activists said that the deportations were involuntary and defied humanitarian norms. Around 5,000 unarmed soldiers took part in the operation, according to Thai press reports, though most news media were barred from the site.

"The forcible return of refugees to their country of origin is a violation of international law," Ms. Rummery says.
---