Philippines massacre trial targets Ampatuan clan
As a trial in Manila focuses on the Ampatuan clan, accused of a politically-motivated massacre last November, they remain powerful on their home turf.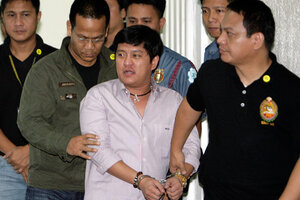 Cheryl Ravelo/Reuters
Sharrif Aguak, Philippines
The politically motivated massacre of 57 people in the Philippines in November, the worst case of election-related violence in decades, prompted President Gloria Macapagal Arroyo's government to promise to rein in the country's warlords.
Now that promise is being put to the test, with a trial in Manila for members of the Ampatuan clan accused of carrying out the killings. But here in Shariff Aguak, the clan's stronghold, many people still speak of the Ampatuans in whispers, if at all. Some are loyal; others are plain scared.
"It's very sensitive to talk about these things. We can't speak. So we don't," says a local official.
Testimony in the weekly pre-trial hearings in Manila has been gripping. Eyewitnesses tell how a convoy of politicians, relatives, friends and reporters were abducted last November, taken to a hillside near this provincial capital, and 57 of them were shot dead. Videos of grave exhumations are played; distressed relatives leave the room.
The Ampatuan scion, Mayor Andal Ampatuan Jr., is the prime murder suspect. His arrest and that of other Ampatuans appears to spell the clan's political downfall, as leaders vow to see justice done.
An aura of violence has long surrounded the Ampatuan political dynasty in this largely Muslim corner of the Philippines. After an election in 2007, local school administrator Musa Dimasidsing told a national commission on electoral fraud that he'd personally witnessed ballot stuffing. He was murdered soon after. The crime was never solved.
---