Q&A: What to watch for in Philippines elections
Campaigning for the Philippines elections kicked off this week in familiar style, with famous names dominating the ballots and already 60 people killed in political violence. Here's what to look for ahead of the May polls.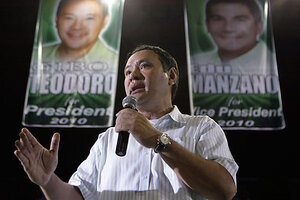 Cheryl Ravelo/Reuters
Philippine presidential hopefuls began campaigning this week in a race to succeed President Gloria Macapagal Arroyo, who steps down in June after nine years in office marred by partisan battles over corruption, stalled political reforms, and vote-rigging in 2004 elections.
The May 10 poll will be the first counted by a new automated ballot-counting system designed to reduce fraud. More than 50 million Filipinos are eligible to elect a president, vice-president, hundreds of lawmakers in both houses of Congress, and thousands of local officials and lawmakers.
As political parties are weak in the Philippines, wealthy political dynasties dominate ballots, particularly in local races. Celebrities also feature prominently: Champion boxer Manny Pacquiao is standing for Congress, and former president Joseph Estrada, a movie star, is running again for the top job.
Ms. Arroyo, a former economist, claims credit for several years of steady economic growth and only a mild dip in 2009. But her ratings have remained stubbornly low and are seen as a drag on candidates from her administration. In a surprise move, Arroyo is running for Congress in her home district, potentially putting her in a powerful position if a long-mooted switch to a parliamentary system of government is adopted.
Who are the frontrunners to win the presidency?
---