In Aceh Indonesia, Islamic police take to the streets
Islamic police in Aceh, Indonesia, patrol daily for women wearing tight clothes and unmarried couples sitting too close.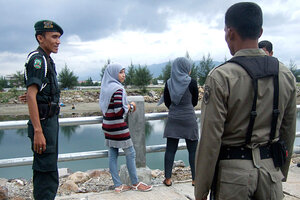 Masako Iijima/REUTERS
"Excuse me," says Iskandar, as his mobile phone beeps for the umpteenth time in the past half hour. It's another anonymous tip-off, alerting him to a young couple who have been seen spending time together alone.
Iskander is head of the Wilayatul Hisbah, a special police unit that enforces Islamic law, or sharia, in the Indonesian province of Aceh. Teams of his officers patrol the Acehnese capital several times a day, looking for unmarried couples, women in close-fitting clothes or not wearing an Islamic headscarf, and anyone drinking alcohol or gambling.
Aceh – known as the "Veranda of Mecca" because Islam entered Indonesia there centuries ago – has long been the most devout spot in the world's most populous Muslim nation.
But the energy with which the 1,500-strong Wilayatul Hisbah – or Wi-Ha, as they are known – are carrying out their job has alarmed some Acehnese, as well as human rights groups, politicians, and businessmen.
Islamic law makes inroads
The province, on the western tip of Sumatra island, home to about 4 million people, won the right to implement Islamic law in 2001, after being granted semi-autonomy as part of efforts to end a decades-long separatist war. Sharia has been enforced with increasing vigor since the 2004 Asian tsunami, which many people interpreted as a divine warning, and last September the provincial parliament approved a new penalty for adulterers: stoning to death.
---