Biased TV stations intensify divides in Thailand protests
As Thailand protests enter their second week, rival TV stations are airing nonstop coverage or highlighting the protests' negative impacts.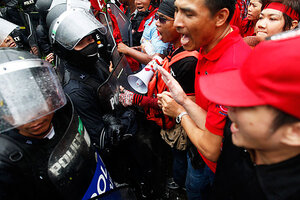 Damir Sagolj/Reuters
Red-shirted protesters in cars, pickup trucks, and motorbikes snaked around the Thai capital on Saturday, the latest in a series of antigovernment demonstrations. Police estimated that 65,000 people had joined the convoy, which stretched for several miles.
But viewers of Thailand's TV stations, the most popular source of news, were told that 25,000 attended. As usual, pictures of protesters were bracketed by statements from government officials. No airtime was given to ordinary protesters. And last week when protesters dumped blood at the prime minister's office and home, pro-government media hyped up the health risks and the ethics of wasting human blood, while antigovernment media focused on the symbolism of Thais willing to shed blood for the cause.
IN PICTURES: Top 10 unusual protests
As the latest antigovernment protest enters a second week, Thailand's mainstream media faces fresh questions over its neutrality, which has already been tested by four years of political turmoil and polarization. Critics say bias is acute on free-to-air TV channels, which are all under government or military control.
Partly as a result, more Thais are turning to partisan sources of news such as cable TV, community radio, and the Internet. This could deepen the political divide and make it harder to find common ground.
---