Iran sanctions: Which way will China go?
As the UN considers whether to impose more sanctions on Iran for its nuclear plans, China is a key player. China gets 11 percent of its oil from Iran, and sees a double standard in the US position toward Iran's nuclear program.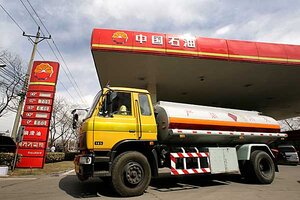 Jason Lee/Reuters/File
 As world powers wrangle this month at the United Nations about how to handle Iran's nuclear plans, China is attempting to balance its thirst for Iranian oil and natural gas with its ambition to be a diplomatic heavyweight.
 Tough sanctions against Iran could have serious economic consequences for China, one of the five veto-wielding permanent members of the UN Security Council. Any significant disruption of China's oil and gas supplies, coupled with setbacks to the country's development deals in those sectors, could hamper Beijing's scramble to ensure that its booming economic growth keeps pace with the rising expectations of its people.
China, the world's second-largest consumer of oil, gets about 11 percent of its oil imports from Iran and has signed billions of dollars in contracts for Iranian oil and gas projects. The Financial Times recently estimated that Beijing is now Tehran's largest trading partner.
---