Tensions rise at the DMZ between North Korea and South Korea
North Korea nullified Thursday all agreements with South Korea designed to prevent an escalation of war along the DMZ between the North and South. Our reporter visits the Demilitarized Zone (DMZ) – the 2.5 mile wide buffer zone – amid the rising tensions.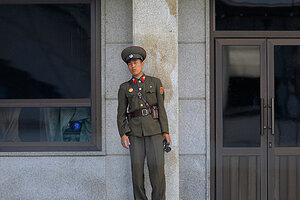 Lee Jin-man/AP
The South Korean army lieutenant had an unusual reminder for tourists Thursday after a briefing by tour guides on the proper way to behave at this historic "truce village" perched between North and South Korea.
"Tension is high," says Lt. Han, not revealing his last name, as he faces an audience dominated by Japanese and Chinese tourists. "Please do as you're told and do not stand in front of soldiers."
This is the Korean peninsula's Demilitarized Zone, a 2.5-mile-wide buffer between Korea's two opposing armies. It's the world's most heavily fortified border, which was created as part of the Korean war armistice of 1953. It's a potential flashpoint of military confrontation, secret tunnels, propaganda one-upmanship, tourist buses, and – when both sides are willing to talk – of negotiations.
Today, two months after the sinking of a South Korean warship, tensions are at the highest level in recent memory. And they're about to go a notch higher.
Our group of tourists files into a single blue-roofed one-room structure that straddles the line between the two Koreas. They walk around a burnished desk across which officers from both sides occasionally confront each other. But as the tourists return to their bus, waiting in front of Freedom House, the imposing stone and concrete edifice built 1998 in hopes of holding reunions there between families separated by the Korean War, they get a surprise.
The promised visit to "the bridge of no return" – where prisoners had walked across the North-South line after their release under the armistice – is suddenly canceled.
---