Whistlerblower 'Koala Boy' casts doubt on Philippines election results
A masked man dubbed 'Koala Boy' alleged that widespread fraud marred the Philippines elections, which were conducted via a new electronic voting system. An inquiry could result in the incumbent, Gloria Arroyo, staying on as president.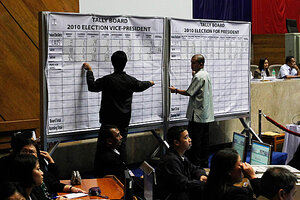 Erik de Castro/Reuters
There has long been a saying in Philippine politics that there are no losers in elections – only winners and those that have been cheated of victory.
Presidential, congressional, and local elections on May 10 seemed at first to have dissolved this mindset, after a new, computerized vote-counting system delivered apparently incontestable results. They showed that Senator Benigno "Noynoy" Aquino had won the presidency by a clear margin over his nearest opponent, ex-President and former movie star Joseph "Erap" Estrada.
But then a mysterious masked man known Koala Boy appeared in a video recording shown to congressmen, alleging widespread electronic electoral fraud. Now Estrada's lawyer has said he will present evidence of fraud when congress meets to proclaim the new president. The whistleblower is called Koala Boy because the mask and hat he wore in the video made him look like the Australian marsupial. He has yet to be publicly identified.
Debate over Koala Boy's claims
He alleged that he and his accomplices had found ways round the safeguards in the computerized vote-counting system, and had sold tranches of electronically generated fake votes to some candidates, while reducing the tallies of others. In one case, he said, a candidate for national office paid 1.4 billion pesos ($30 million) for 7 million votes. The electorate numbers only 50 million.
---