China's migrant workers see some gains on labor rights
In China, dozens of migrant workers who protested to city officials over a job-related illness won compensation. Labor-rights success stories, while rare, are growing more frequent.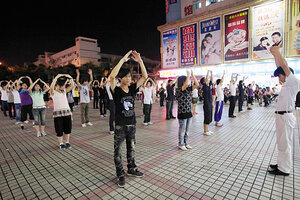 Joe Tan/Reuters
Chinese migrant laborers toiling in the factories of two major firms won unusually hefty raises in recent weeks, as Honda sought to end strikes and Foxconn, maker of the Apple iPad, tried to stave off criticism over a spate of worker suicides.
But multinationals that find themselves backed into a corner are not the only ones starting to heed the demands of increasingly emboldened employees. In some instances government officials here in China's southern factory belt, Guangdong Province, have also made small concessions as more workers stage sit-ins and pursue legal channels for compensation.
In one such success story, in the past year two sets of construction workers who found themselves diagnosed with pneumoconiosis – that is, their lungs clogged with abnormal levels of mineral deposits – demanded and won up to $19,000 each from city officials.
It's unclear how far China's local or central government will allow such long-suppressed labor protests to bud. While Beijing has outlined goals to eliminate cheap labor and the low-end manufacturers that rely on them, it also fiercely prizes social stability.
---