North Korea meets with US as food shortages hammer North
Amnesty International's report on the poor state of health care in North Korea may be a contributing factor in why North Korea accepted a UN proposal for leaders to meet face-to-face.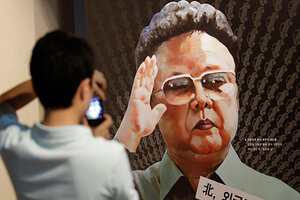 Lee Jin-man/AP
Amid rising tensions over US plans to go through with naval exercises with South Korea in the wake of the sinking of a South Korean naval vessel by North Korea in March, the United States and North Korea are reopening a historic avenue for direct negotiations.
At the "truce village" of Panmunjom, in a one-room structure 40 miles north of Seoul on the line between the two Koreas, a US colonel from the United Nations Command and a North Korean counterpart chatted Thursday for 90 minutes. The purpose of the meeting, the first on that level in more than a year, was to prepare for talks between generals that are sure to turn into a test of will over US policy on Korea.
A critical initial issue will be the depth of the US commitment to the naval exercises that the Americans and South Koreans are planning in the near future but that China is protesting as a threat to its territorial interests. On a broader level, however, the talks at Panmunjom reflect North Korea's desire to appear in a mood for reconciliation while suffering steadily worsening shortages of food and essential supplies.
"It's time for North Korea to be good," says Kim Tae-woo, senior fellow at the Korea Institute for Defense Analyses. "There is a sense North Korea is suffering from worsening economic difficulties."
---