North Korea denounces war games, but is still game for six-party talks
North Korea denounced joint US and South Korean exercises on Thursday in a volley of rhetoric that analysts believe was sure to increase regional tensions, but not fresh clashes.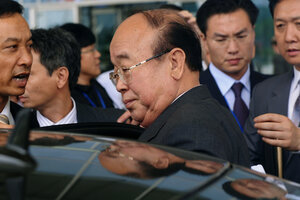 Hoang Dinh Nam/AP Photo/Pool
At a time when North Korea is attempting to show it's ready to resume six-party talks on its nuclear weapons program, Pyongyang fired off a volley of rhetoric aimed at joint US and South Korean military exercises.
The denunciation, one day after the US announced new sanctions may increase regional tensions, say analysts, but does not mean fresh clashes are likely.
At the regional forum of the Association of Southeast Asian Nations (ASEAN) in the Vietnamese capital of Hanoi, North Korean spokesman Ri Tong-il characterized US and South Korea war games as "a grave threat to the peace and security not only of the Korean peninsula but of the region."
While Mr. Ri's tone was typical of North Korean denunciations of the annual US and South Korean exercises staged every spring, analysts fear North Korea may be using the war games to raise the temperature in the wake of the sinking of a South Korean navy ship in the Yellow Sea. The war games are slated to begin Sunday off South Korea's east coast.
---