Benigno Aquino addresses Philippines, condemns Arroyo and corruption
Benigno Aquino on Monday delivered his first State of the Nation address as president of the Philippines. He accused his predecessor Goria Arroyo of corruption and financial squandering.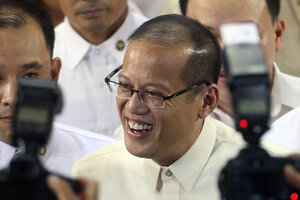 Bullit Marquez/AP Photo
Benigno Aquino delivered his first State of the Nation Address on Monday as president of the Philippines, reciting a litany of wrongdoings allegedly committed by the previous administration. He promised that his government would follow a straighter path – but gave few specifics on how he plans to clean up government and balance the books.
Mr. Aquino took office at the end of June, having campaigned on the legacy of his beloved politician-parents. He ran on the slogan: "If there's no corruption, there's no poverty."
He replaced Gloria Arroyo, who had reached her term limit and whose administration had been beset by allegations of corruption. Despite steady but slow economic growth under Ms. Arroyo, a third of the population lives on less than a dollar a day and the government suffers from chronic budget deficits.
Aquino had warned that his speech today would shock Filipinos. Addressing the combined membership of the Senate and House of Representatives, he alleged various wrongdoings by the Arroyo administration, saying: "For a long time, our country lost its way on the crooked path." He said he would give the order this week for the creation of a "truth commission" to look into irregularities in the Arroyo administration.
---