North Korean plane crash in China is shrouded in mystery
North Korean plane crash in China has experts wondering what happened: Soldiers have defected amid food shortages, but pilot defections have been extremely rare.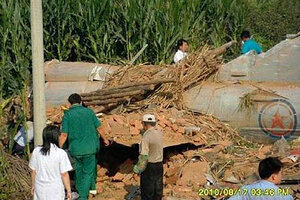 Yonhap/Reuters
A North Korean fighter jet crashed Wednesday on what appeared to be an illicit flight deep inside China, South Korean and Chinese news agencies reported.
The South's Yonhap news agency, reporting from the major northeastern Chinese city of Shenyang, said the pilot, the only person on board the plane, was killed in what intelligence sources believe was an attempt to defect to Russia. A house reportedly was destroyed in the crash but no one on the ground was injured.
Photographs of the crash site clearly show the North Korean red star symbol on the fuselage beneath the tail section. South Korean defense officials believe the plane was a MiG21, a fairly advanced model. The North Korean Air Force has about 700 planes, ranging from MiG15s used in the Korean War to late-model MiG23s and a few MiG27s. The former Soviet Union provided most of the planes before the collapse of Soviet rule 20 years ago.
---