Vietnam seeks gains as China labor costs rise
With China labor costs rising, Vietnam is hoping that its cheaper labor will attract more foreign investment. But Vietnam's rickety infrastructure and lack of skilled workers remain obstacles to growth.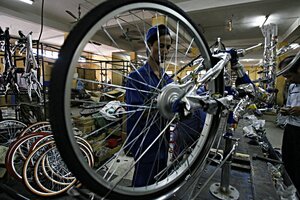 Kham/Reuters
A recent spell of walkouts over pay and conditions in China's southern export zone seems likely to spur low-cost producers to expand operations in countries where wages remain significantly lower than in China.
China's wage inflation is being closely watched in Vietnam, which has expanded aggressively since the 1990s into labor-intensive industries like clothing, footwear, and furniture. The US, its former adversary, is now Vietnam's biggest export market and last year became the largest investor here. Exports of textiles and garments, an industry that employs around 1.7 million Vietnamese, rose by 17 percent in the first seven months of the year.
But economists say that Vietnam won't necessarily reap the immediate benefits of rising labor costs in its giant neighbor.
While labor costs are low – around two-thirds less than in China – export industries are held back by rickety infrastructure, an inefficient bureaucracy, and a lack of skilled workers. Companies are also concerned by signs that the government may impose price controls on private businesses to tamp down inflation, currently around 8 percent.
Keeping labor costs down is only one factor in attracting more investment to Vietnam, says Adam Sitkoff, executive director of the American Chamber of Commerce in Vietnam. Employers also need to see an upgrading of facilities like ports, roads, and utilities, amid a sharp rise in demand for electricity that the state-owned utility struggles to meet.
"How can you attract investors to a place where you can't keep the lights on?" asks Mr. Sitkoff.

Not just China talking strike
---