Russian weapons dealer Viktor Bout stalls extradition to US
Viktor Bout has stalled his extradition to the US. But the delay may be short-lived in the case of the 'Merchant of Death,' accused of supplying dictators and warlords with weapons.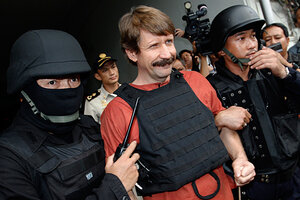 Damir Sagolj/Reuters
The long-delayed extradition case of Viktor Bout, a notorious Russian businessman accused by the US government of conspiring to arm Colombian rebels, hit another roadblock Monday.
Prior to winning an appeal for extradition on Aug. 20, prosecutors filed additional charges against Bout in an effort to buy more time in court, because they feared they would lose the appeal. When the judge announced Bout could be extradited, there was no need to slow the process for the extra charges. The snag is that now, Bout's lawyer has objected to withdrawing those charges in an effort to extend the process and stave off extradition.
But Bout's apparent victory may be short-lived. A Thai judge set a hearing for Tuesday on the new charges and said that no further submissions would be accepted. This should speed up the legal process and put Bout closer to a final decision, possibly within days, though observers say that other delaying tactics could stall any quick handover.
Arrested in Bangkok in March 2008 in a Drug Enforcement Agency sting operation, Bout has become a thorn in the side of Thailand. Russian government officials have urged Thailand to release him and warned that US-Russian relations could suffer. Bout's supporters have decried US pressure on Thailand to hand over Bout, and claimed a political conspiracy against him.
Russia has far less leverage than the US in Thailand, a longtime military ally, says Paul Quaglia, executive director of PSA Asia, a security consultancy in Bangkok. But the diplomatic pressure has increased as Bout's case has dragged on. "There is furious back-channeling by Russia," he says.
---