After Indonesia tsunami kills more than 150, surfers begin rescue efforts
As relief agencies scramble to bring supplies to Indonesia's remote Mentawai Islands where a tsunami struck, surfers already on the scene are providing assistance.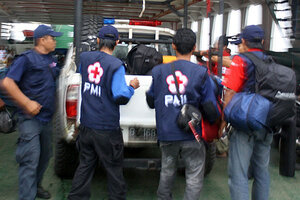 Rus Akbar/AFP/Getty Images/Newscom
The Indonesian government and a host of relief agencies scrambled to pull supplies together Wednesday before making the 12-hour journey from Sumatra to the Mentawai Islands, where more than 150 people were killed after a powerful earthquake sparked a tsunami that struck the remote region on Monday.
Two days after the 7.7-magnitude quake struck, little aid has reached the islands due to rough seas and stormy weather. The few reports trickling in have come mainly from survivors, and a few surf charters that were out on the water when the tsunami hit.
But it's surfer-supported groups, such as Last Mile Operations and SurfAid International, that have begun to provide assistance and search for the scores of villagers that remain missing.
"We will be poking in and out of small bays looking for villages in need," says Matt George, the director of Last Mile Operations, an organization that specializes in providing aid during coastal disasters. George has chartered a boat and was loading up to leave Wednesday night along with 10 other relief workers and as many as 100 rescue buckets.
First responders: surfers
The D'Bora surf charter stationed off the southern end of Pagai island, the area closest to the epicenter, has been sending back reports of the damage. Last Mile Operations has used that information to put together buckets complete with fishing hooks, sarongs, blankets, tarps, rope, and small shovels.
---