Cut out of Burma election, Kachin minority could turn guns on junta
The ethnic Kachin, legendary guerrillas who spent decades fighting Burma's military regime, have been cut out of the Burma election scheduled for Nov. 7.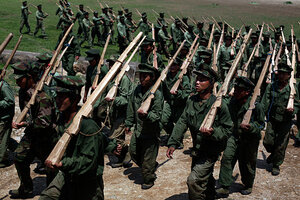 Ng Han Guan/AP/File
When it comes to guerrilla warfare, the Kachin tribesmen of northern Burma (Myanmar) are past masters, and there are growing signs that Burma's Nov. 7 election could result with them reaching for their guns again.
During World War II, US-backed Kachin Rangers terrorized Japanese occupiers and rescued downed Allied pilots. When Burmese independence soured for ethnic minorities, Kachin fighters turned their guns on government troops in these rugged mountains between China and India.
In recent years the Kachin have tried their hand at politics. They signed a ceasefire in 1994 with Burma's military rulers and the Kachin Independence Organization (KIO) has been gearing up for Burma's election, the first in 20 years. But now some Kachin are beginning to regret their foray into politics.
Their hopes were dashed when the ruling junta removed pro-KIO politicians from the election ballot after the group refused to merge its armed wing, known as the KIA, with the national army. Now the KIA, which has an estimated 5,000-10,000 men, is busy recruiting and training, and residents are braced for renewed fighting.
---