Indonesia's Mt. Merapi shelters overflow with restless evacuees, flights canceled
One week after Indonesia's Mount Merapi unleashed its major blast, evacuation centers have reached capacity. Ongoing eruptions have sent more people fleeing and forced cancellation of some international flights.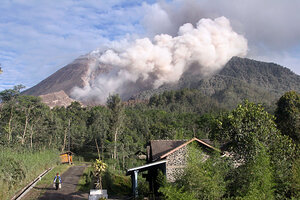 Binsar Bakkara/AP
Scores of women and children sit on thin reed mats in Wonokerto evacuation shelter, one of dozens set up at the base of Indonesia's most active volcano. Groups of college students from around Java move around the room urging them to get up and sing, play games, or scribble in coloring books – anything to keep the disaster victims active.
"We're concerned about their morale because they become bored easily," said Rani Sitimaharani, a student volunteer from the Yogyakarta Care Alliance. "We also try to help the children forget about what happened with the eruption, to help them with the trauma."
But many of the disaster victims prefer to keep their eyes on a television news program discussing the volcano that has put them in the auditorium of the school-turned-evacuation-center, forced international airlines to cancel flights to nearby airports Tuesday, and hindered aid work.
One week after Mount Merapi unleashed its first blast of searing gas and debris, evacuation centers have reached capacity. Ongoing eruptions have sent more people fleeing the volcano's slopes, raising concern among rescue workers about morale and next steps. The death toll from the volcano eruptions is now at 38 people, and the tally of evacuees has been raised to nearly 70,000.
Villagers here say they're bored of sitting still. Mainly, they say they are worried about their homes. Despite the danger of another eruption, and the possibility of inhaling hazardous gas and ash, many villagers, mainly men, return to their farms during the day to check on the crops and livestock they depend on for their incomes. A few women have started joining them recently, looking for something to keep busy.
---