North Korea reveals a nuclear plant. The US says it's not concerned.
Even though US envoy to North Korea Stephen Bosworth gave no hint of military escalation, he's gone to Seoul and Tokyo seeking support to deescalate North Korea's nuclear program.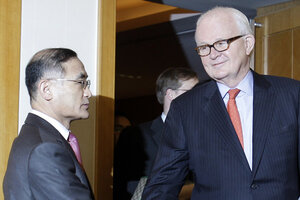 Lee Jin-man/AP Photo
US nuclear envoy Stephen Bosworth faced the challenge Monday of coming up with a formula acceptable to both South Korea and Japan for getting North Korea to back down from what appears to be a major escalation of its nuclear program.
Mr. Bosworth, stopping off in Seoul for talks with South Korea's new foreign minister, Kim Sung-hwan, and veteran nuclear negotiator Wi Sun-lac, said "this is not a crisis" but talked as if it were. Accusing North Korea of committing "another in a series of provocative moves," he confirmed that North Korea was building "a facility" at its main nuclear complex "to produce enriched uranium."
The revelation of the project at the Yongbyon complex, revealed by US nuclear physicist Siegfried Hecker after a visit there, means that North Korea is nearing the stage at which it can produce enriched uranium for either electrical energy or warheads.
---