Taiwan press freedoms are eroding, critics say
For the past two years, Freedom House has downgraded Taiwan's rating in its annual report on global press freedom. Critics say it's common for government propaganda to masquerade as 'news.'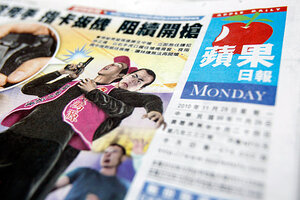 Nicky Loh/Reuters
When veteran journalist Huang Je-bing resigned in protest from one of Taiwan's leading newspapers, he says he did not expect it would stir up such a storm. In a blistering blog post titled "Leaving the China Times on a Jet Plane," Mr. Huang deplored the erosion of journalism ethics that sacrifices independent news for cozy relations with government officials – relations that are greased by a flow of advertising dollars.
"As a result, reporters have become advertising salesmen, public relations companies and advertisers have become news writers, and the hand of government and big business intervenes directly into editing content. This is an immoral masquerade," Huang wrote, comparing the practice to Communist propaganda.
Freedom of speech and press are among the most lauded achievements of Taiwan's democratic transition since martial law was lifted more than two decades ago. Yet many observers say that the glitter of the island republic's free press has been overrated, especially in a highly commercialized news culture that is both deeply partisan and prey to political favors. For the past two years Freedom House has downgraded Taiwan's rating in its annual report on global press freedom.
President Ma Ying-jeou promised to end the practice of embedded advertising by the government three years ago. But Huang and others say it has actually become more widespread. Independent observers say the news media is in a state of crisis over assaults to its independence from government and the corporate sector.
---