Australia's flood aftermath on par with New Orleans
In its worst flood since 1974, Australia's Brisbane focuses on speedy relief and a long recovery.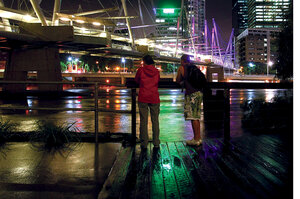 Mick Tsikas/Reuters
Last week Colin and Lorna Wilkinson decamped from their 12th floor Brisbane apartment building with little more than their two cats and a few plastic bags.
Despite warnings that Brisbane's worst floods since 1974 were on their way, the couple initially wanted to stay put – but the manager of their building, which is right on the river, told them they had to leave. Recalling the recent graphic TV images of families stranded on rooftops and cars being swept down streets in towns west of Brisbane, Mrs. Wilkinson describes the floods simply as "quite scary."
The Wilkinsons made it to the city's main flood evacuation center, the expansive RNA Showgrounds, along with hundreds of others. Traditionally the site of an annual agricultural fair, the show grounds are now one of five evacuation centers in Brisbane, and one of about 60 in Queensland set up to receive flood evacuees and donations for flood victims.
More than 15,000 properties in 50 Brisbane suburbs have been affected by floodwaters that peaked at 4.46 meters (14.6 feet) on Jan. 13. After weeks of flooding at least 25 people were killed, and some 12 more were missing across Queensland Jan. 18. Now large areas of the city are covered in dirty water and mud and some evacuees have been told by authorities they will not be able to return to their homes for months.
Some experts say the economic impact of the floods spurred by an energetic La Niña weather cycle, currently estimated at $20 billion and rising, could be on a par with the 2005 hurricane Katrina, and from which New Orleans is still recovering (total damage from Katrina is estimated at $81.2 billion).
As affected Brisbanites struggle to come to terms with the loss of their homes, the state and federal governments are planning a massive program to repair and replace roads, railway lines, bridges, and public buildings in and around the towns and cities affected by flooding.
---