South Korean film director debuts his latest big screen tool: the iPhone.
Top South Korean film director Park Chan-wook shot a 33-minute film using Apple iPhones for cameras. His producer says the iPhone opens doors for artists on tight budgets.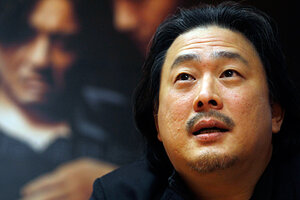 Truth Leem/Reuters
South Korean film director Park Chan-wook thinks he's found the way to get around the high cost of making a movie. He's shot a 33-minute film using Apple iPhones for cameras.
Called "Paramanjang," literally "Ups and Downs," the film opens with a grisly scene of a man pulled into a river and drowning while fishing at night – hence the English title, "Night Fishing" – and devolves into a fantasy of life, death, life after death, and spiritual relief.
Park has earned a reputation as one of Korea's most renowned directors, but "Paramanjang" may go down in cinema history for reasons that have nothing to do with its tightly constructed plot or the impassioned performances of the two leading actors, the fisherman or the woman who came to embody his soul.
The difference between Paramanjang and every other feature film on big screens in movie theaters is that it's the first iPhone movie ever shown commercially – and on a budget that should make it the envy of independent moviemakers and cinema students everywhere. The total cost was less than $150,000 – most of that for conventional sound and lighting, plus digital editing.
" 'Night Fishing' is in various aspects a new movie," says Mr. Park, citing "the fact that iPhones were the shooting medium, that it is a 30-minute short film, and the the story is unfamiliar and new."
Ten Korean theaters, five in Seoul and five in other large cities, are offering the film on an experimental basis, but producer Jeon Won-jo is convinced that's just the beginning. "It opens doors for a lot of people," he says. "It's democratization. It allows students and independent filmmakers another very useful option."
---
Follow Stories Like This
Get the Monitor stories you care about delivered to your inbox.